24/7 Emergency Truck Repair Service
When you need us most – we will be there!
Emergency Repair Service Features
Emergency Service Benefits:
Convenience – we know your equipment and needs
Service expertise – complete onboard diagnostic capabilities
Response Time – we strive for a 1 hour response time
Reduced costs – save time and money when you are on a Fleet Partnership Plan
Productivity – our service vehicles are specially designed and equipped
Safety – we lookout for the driver and vehicle safety at all times
COMMON REPAIRS
Engine de-rates
Engine re-gens
Lights
No starts
Air leaks
Coolant leaks
PLEASE CALL 888-889-4377
Calls are answered 24/7/365
Online requests are monitored Monday – Friday from 8 AM – 5 PM EST. We will contact you as quickly as possible for requests submitted during those times. After those hours, we will contact you the following morning.
Complete the form to have a representative contact you.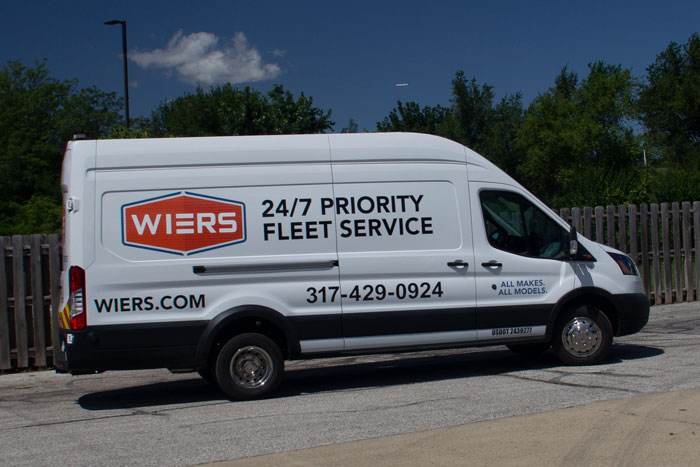 CUSTOMIZED FLEET SERVICES & MAINTENANCE PLANS
We work with thousands of managers and businesses to ensure their trucks deliver products and services in a safe, reliable, and cost-effective manner.
Regardless if you have one diesel truck or hundreds, our plans are designed for proactive managers who want:
A cost-effective repair service
To understand and control costs
Responsiveness when problems occur
LET WIERS MAINTAIN YOUR FLEET AND ENJOY PEACE OF MIND.
Fleet Partnership Plans are:
Easy Join
Flexible Service Packages
Save Time & Money
Fleet Partnership
PLANS STARTING AT
Flexible Services Plans

Discounted Labor Rates

Reduced Mobile Service Fees

Discounted Emergency Service Fees

Managed PM & DOT Schedules

Compliance Dashboard

1st Available Bay

Free Pickup & Delivery
24/7 EMERGENCY SERVICE REVIEWS

Blown Air Filter
Air dryer filter blew out and left me stranded on a Friday night. Wiers answered their phone right away and had a mechanic out to me in about an hour. Quick, professional, courteous and overall awesome experience. I recommend this company. Shout out to Eric the road call mechanic who fixed me. I'm still rolling!

Stranded Bus
Henry is an excellent mechanic and extremely easy to work with. Henry and Mary from the Lafayette Team respond quickly to any bus issue we have. Every job they do for us is good but the less than a half-hour response time to a bus stranded in Lebanon with students on a weekend was exceptional. – Ross S.

Fast Roadside Repair
Brian came out to help my husband in Louisville with a forced regen tonight. He was prompt, courteous and the pricing was very reasonable for an emergency evening service. From first down to back on the road was less than 3 hours and there was probably an hour delay from going down until Wiers received our call. Very impressed and should the need arise we would absolutely use your service again. Thank you! – Krista D.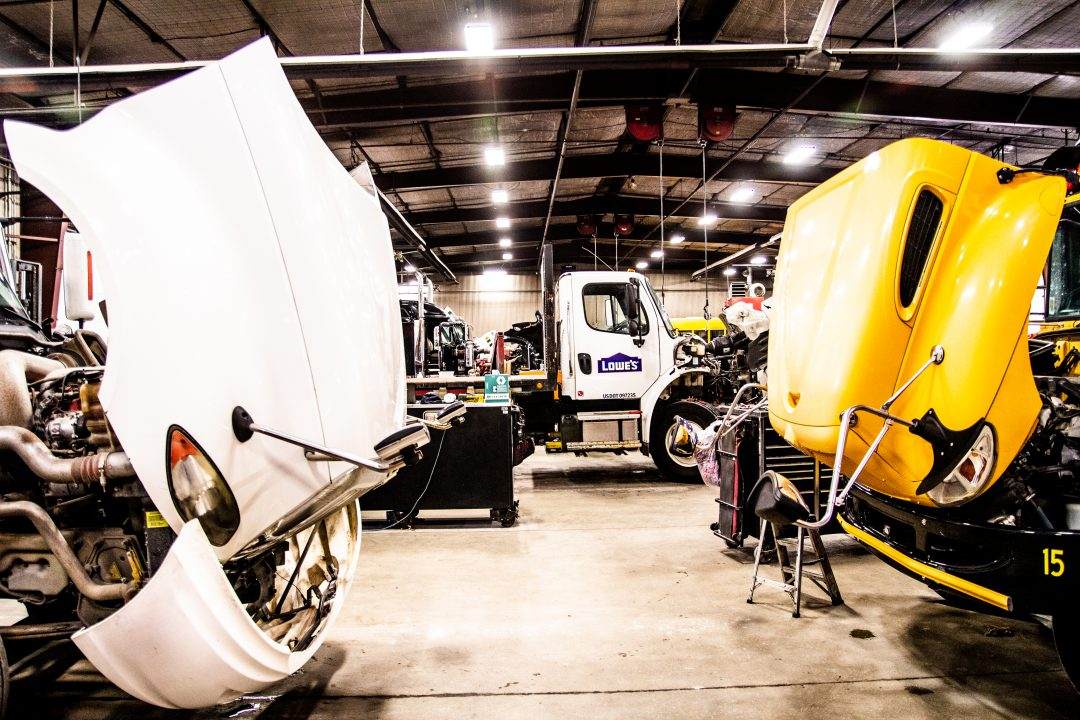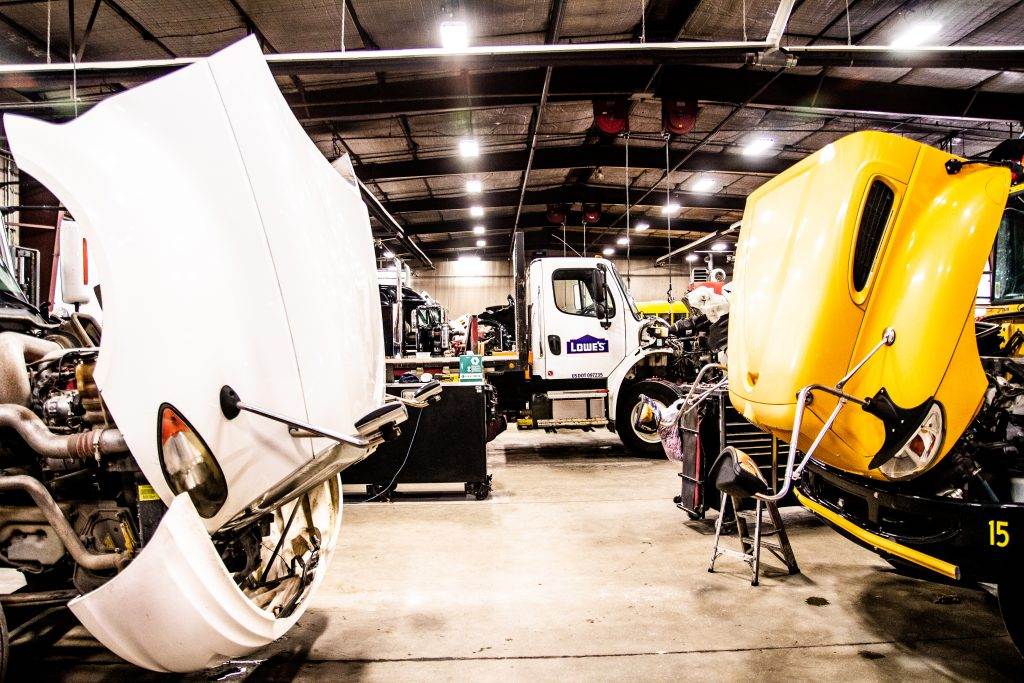 LOCAL TRUCK
SERVICE CENTERS
OUR LONG TERM COMMITMENT
Many repairs simply cannot be performed outdoors and away from important tooling. Wiers Service Centers represent our commitment to quality and to the customers and communities we serve.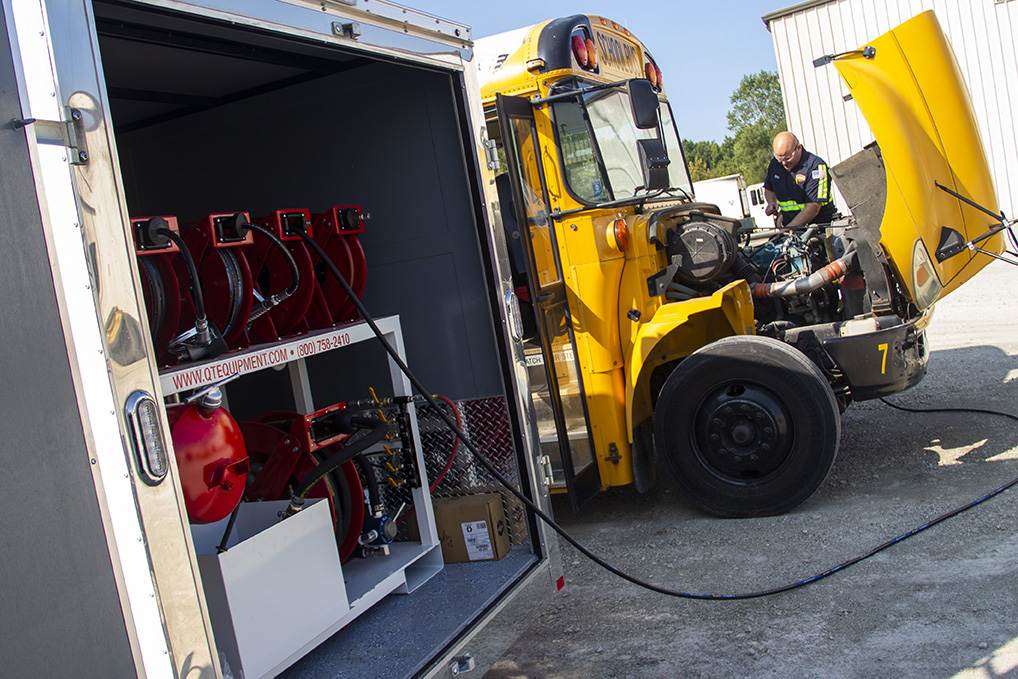 WE WILL COME TO YOU
Time is money. Enjoy the convenience of mobile maintenance. Select a time and location for a local Wiers Mobile Maintenance technician will show up and do the rest.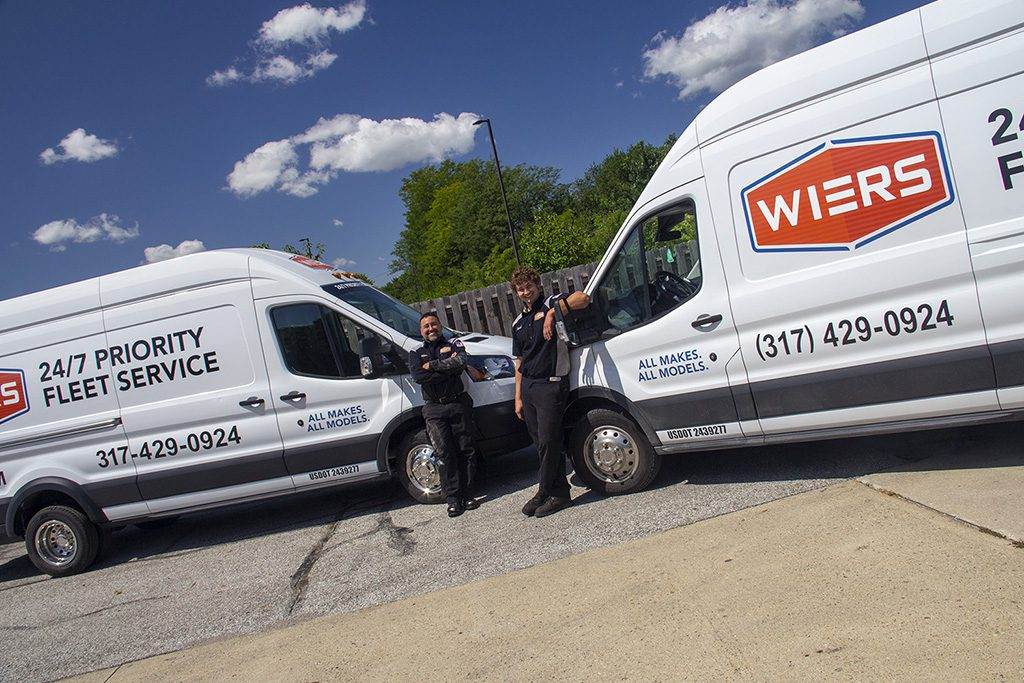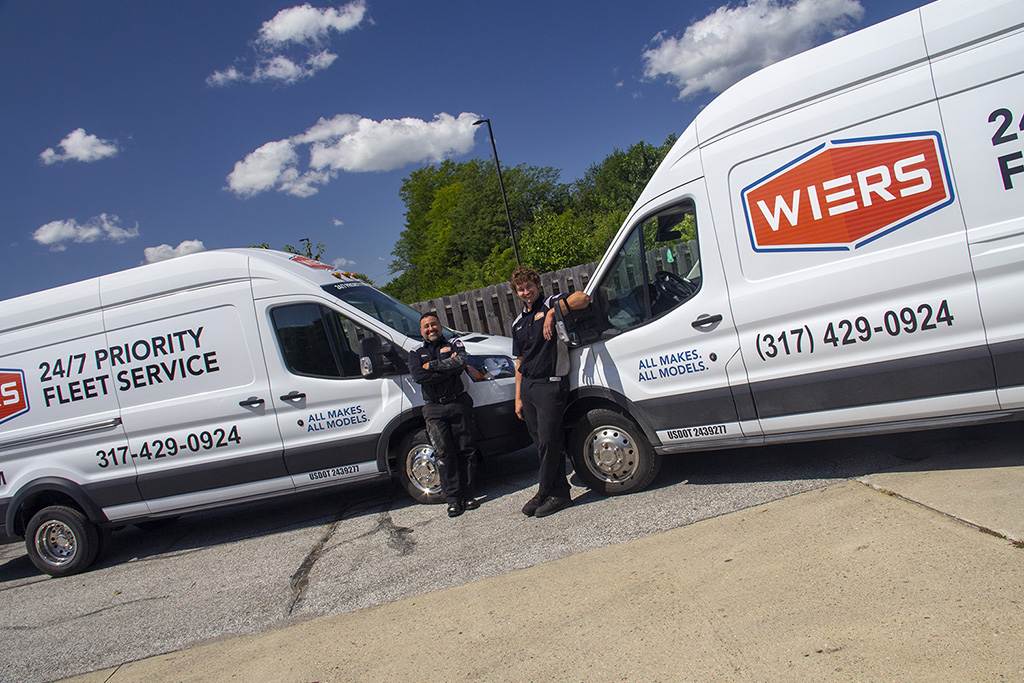 WHEN YOU NEED US MOST
Unexpected problems happen. Wiers 24/7 Emergency Service is ready to respond to your unique needs because that's what Partners do!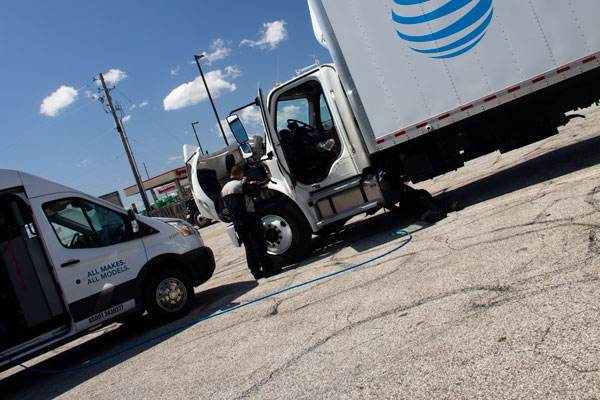 CALL FOR EMERGENCY SERVICE
WIERS 24/7 TRUCK REPAIR &
FLEET SERVICE LOCATIONS
Title

Address

Description

Wiers International Trucks - Plymouth, IN

2111 Jim Neu Dr, Plymouth, IN 46563, USA

2111 Jim Neu Drive Plymouth, IN 46563

Phone: (574) 936-4076
Fax: (574) 936-9301

Wiers International Trucks - Logansport, IN

1631 W Market St, Logansport, IN 46947, USA

1631 West Market Street Logansport, IN 46947

Phone: (574) 722-5656
Fax: (574) 722-9509

Wiers International Trucks – Lafayette, IN

430 Meijer Dr, Lafayette, IN 47905, USA

430 Meijer Drive Lafayette, IN 47905

Phone: (765) 448-9950
Fax: (765) 447-8824

Wiers Fleet Partners – Denver, CO

5300 Monroe St, Denver, CO 80216, USA

5300 Monroe St. Denver, CO 80216

Phone: (303) 294-0470

Wiers Fleet Partners – Indianapolis, IN

3748 W Morris St, Indianapolis, IN 46241, USA

3748 West Morris Street Indianapolis, IN 46241

Phone: (317) 429-0924
Fax: (317) 757-5734

Wiers Fleet Partners – LaPorte, IN

1933 W 450 N, La Porte, IN 46350, USA

1933 West 450 North LaPorte, IN 46350

Phone: (219) 379-5411
Fax: (219) 379-5496

Wiers Fleet Partners – Louisville, KY

4621 Allmond Ave, Louisville, KY 40209, USA

4621 Allmond Avenue Louisville, KY 40209

Phone: (502) 915-7424

Wiers Fleet Partners – Florence, KY

9000 Empire Connector Dr, Florence, KY 41042, USA

9000 Empire Connector Drive, Florence, KY

Phone: (859) 371-4711

Wiers Fleet Partners – Columbus, OH

1515 Frank Rd, Columbus, OH 43223, USA

1515 Frank Road, Columbus, OH 43223

Phone: (614) 276-6511

Mobile Service Technician – Cincinnati, OH

Fairfield, OH, USA

Phone: (888) 889-4377
Mobile Service Technicians
24/7 Emergency Service

Mobile Service Technician – Cleveland, OH

Cleveland, OH, USA

Phone: (216) 317-2283
Mobile Service Technicians
24/7 Emergency Service

Mobile Service Technician – Lexington, KY

Lexington, KY, USA

Phone: (888) 889-4377
Mobile Service Technicians
24/7 Emergency Service

Mobile Service Technician – Dayton, OH

Dayton, OH, USA

Phone: (888) 889-4377
Mobile Service Technicians
24/7 Emergency Service
Title

Address

Description

Wiers International Trucks - Plymouth, IN

2111 Jim Neu Dr, Plymouth, IN 46563, USA

2111 Jim Neu Drive Plymouth, IN 46563

Phone: (574) 936-4076
Fax: (574) 936-9301

Wiers International Trucks - Logansport, IN

1631 W Market St, Logansport, IN 46947, USA

1631 West Market Street Logansport, IN 46947

Phone: (574) 722-5656
Fax: (574) 722-9509

Wiers International Trucks – Lafayette, IN

430 Meijer Dr, Lafayette, IN 47905, USA

430 Meijer Drive Lafayette, IN 47905

Phone: (765) 448-9950
Fax: (765) 447-8824

Wiers Fleet Partners – Denver, CO

5300 Monroe St, Denver, CO 80216, USA

5300 Monroe St. Denver, CO 80216

Phone: (303) 294-0470

Wiers Fleet Partners – Indianapolis, IN

3748 W Morris St, Indianapolis, IN 46241, USA

3748 West Morris Street Indianapolis, IN 46241

Phone: (317) 429-0924
Fax: (317) 757-5734

Wiers Fleet Partners – LaPorte, IN

1933 W 450 N, La Porte, IN 46350, USA

1933 West 450 North LaPorte, IN 46350

Phone: (219) 379-5411
Fax: (219) 379-5496

Wiers Fleet Partners – Louisville, KY

4621 Allmond Ave, Louisville, KY 40209, USA

4621 Allmond Avenue Louisville, KY 40209

Phone: (502) 915-7424

Wiers Fleet Partners – Florence, KY

9000 Empire Connector Dr, Florence, KY 41042, USA

9000 Empire Connector Drive, Florence, KY

Phone: (859) 371-4711

Wiers Fleet Partners – Columbus, OH

1515 Frank Rd, Columbus, OH 43223, USA

1515 Frank Road, Columbus, OH 43223

Phone: (614) 276-6511

Mobile Service Technician – Cincinnati, OH

Fairfield, OH, USA

Phone: (888) 889-4377
Mobile Service Technicians
24/7 Emergency Service

Mobile Service Technician – Cleveland, OH

Cleveland, OH, USA

Phone: (216) 317-2283
Mobile Service Technicians
24/7 Emergency Service

Mobile Service Technician – Lexington, KY

Lexington, KY, USA

Phone: (888) 889-4377
Mobile Service Technicians
24/7 Emergency Service

Mobile Service Technician – Dayton, OH

Dayton, OH, USA

Phone: (888) 889-4377
Mobile Service Technicians
24/7 Emergency Service