INTERNATIONAL® TRUCK PARTS
Truck parts, supplies, and tools to ensure Trucks Roll!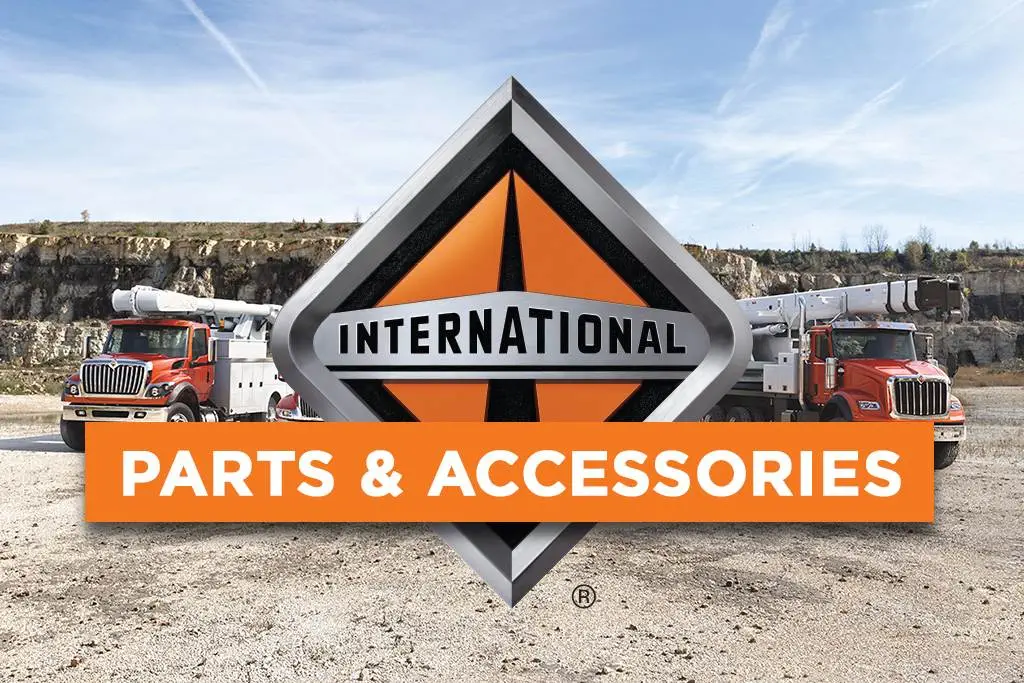 INTERNATIONAL® PARTS & MORE
Wiers maintains an extensive inventory of truck parts, supplies, and tools to keep your fleet operating efficiently. Shop our trusted brands.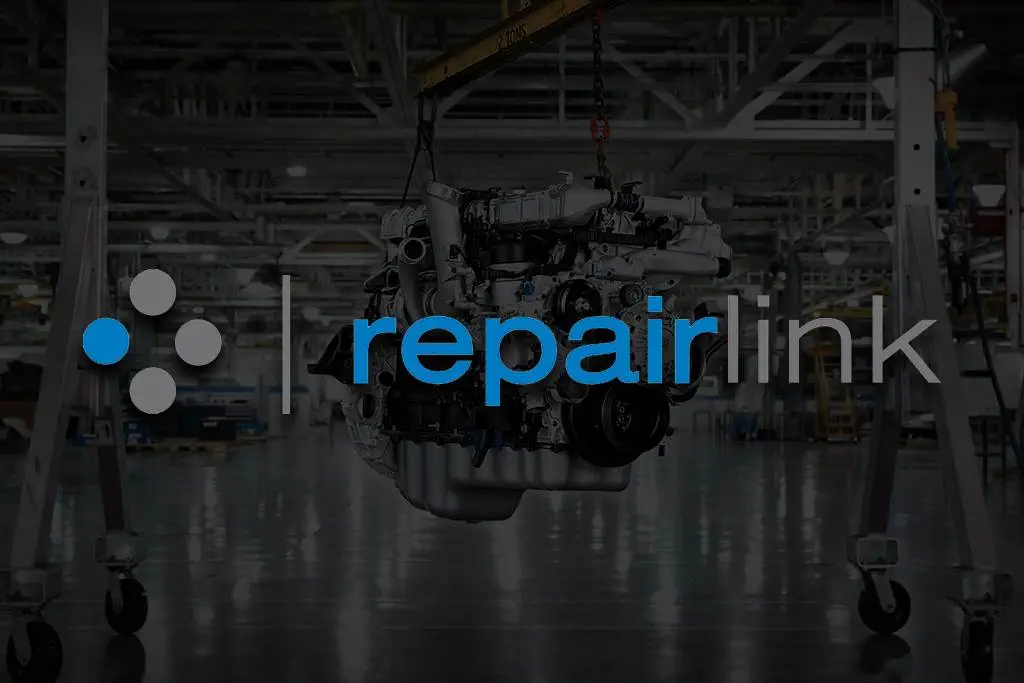 FAST, EASY, ACCURATE
RepairLink offers the most comprehensive OEM parts solution available today. Save time and money with 24/7 online parts orders.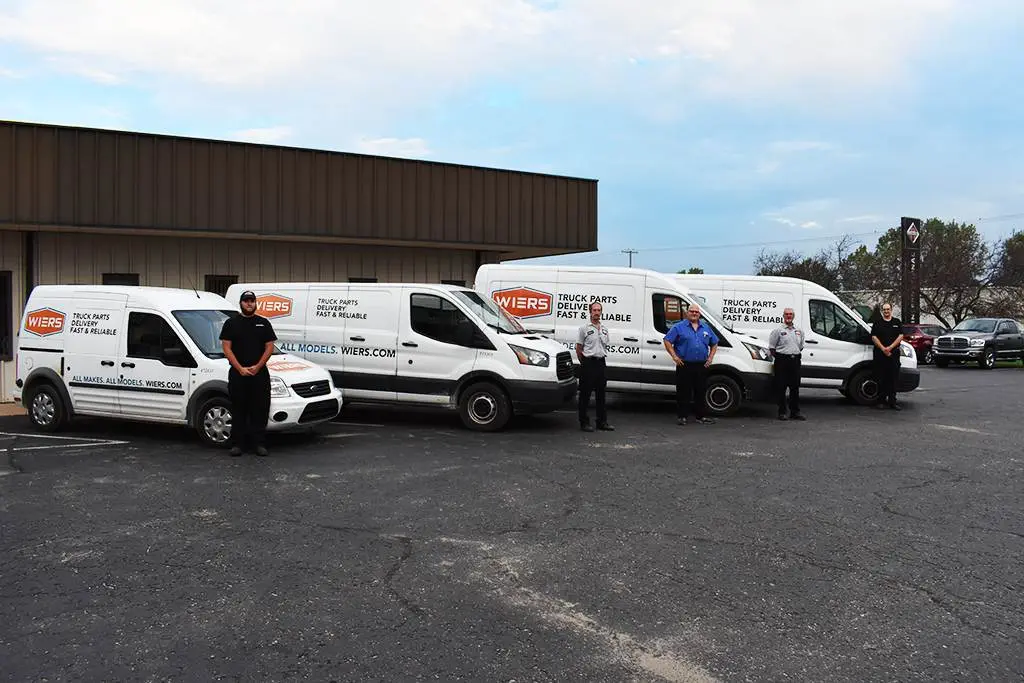 FAST & RELIABLE
Uptime requires the right part as fast as possible. Wiers Parts Team deliveries ensure repairs are completed quickly & trucks get back on the road.
STRENGTH OF INTERNATIONAL® TRUCKS
A leader in All Makes parts for trucks, buses, and trailers.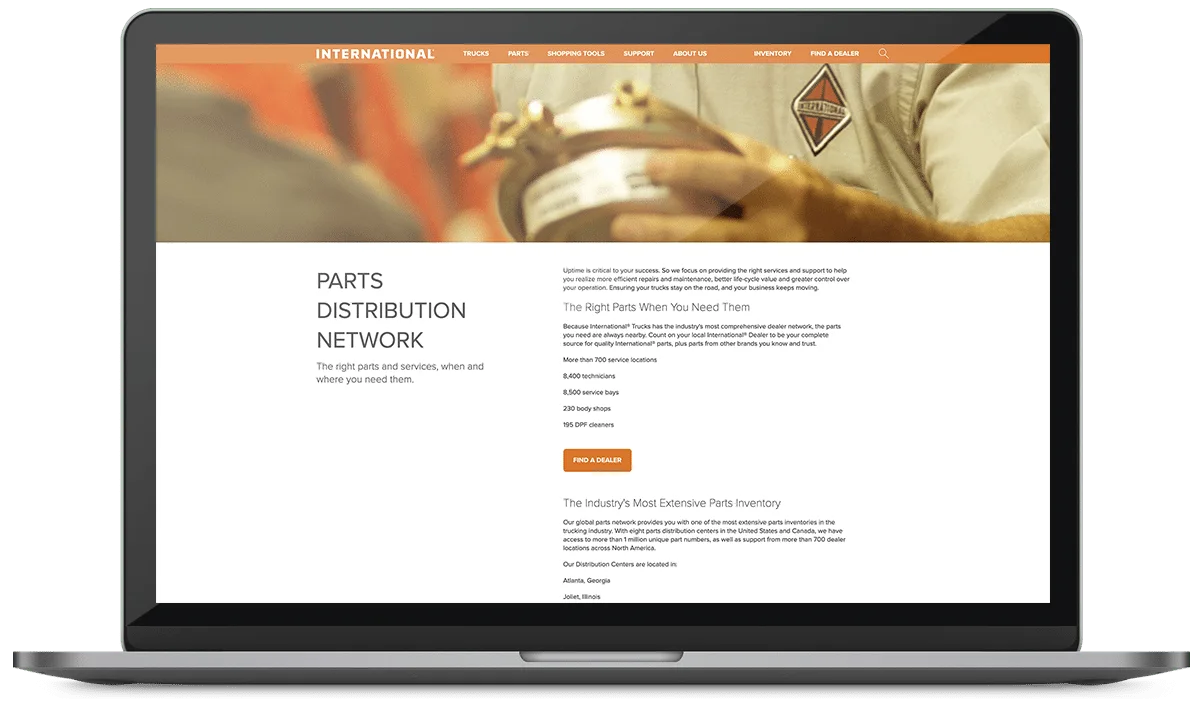 PARTS WHEN YOU NEED THEM
If we don't have the part you need in stock, Wiers will access 8 parts distributions centers and 700 dealer locations to find it for you.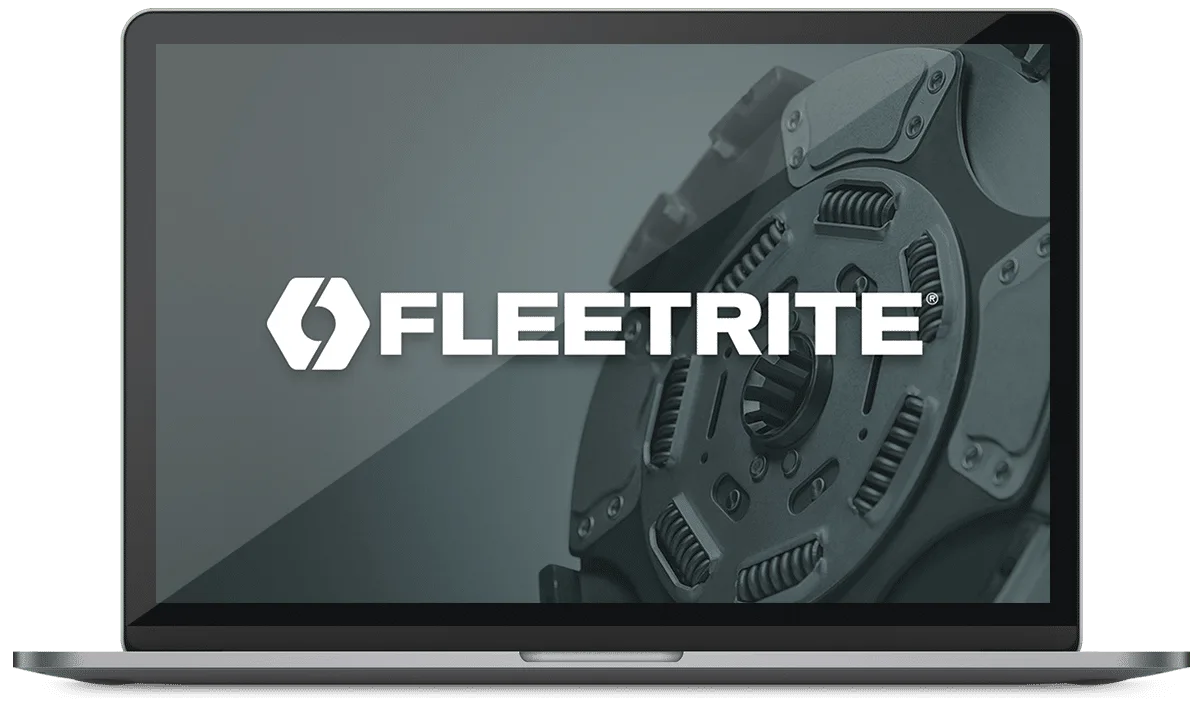 COMPARE & SAVE
For more than 40 years, FleetRite® has provided high-quality parts and competitive prices all backed by a one-year service parts warranty.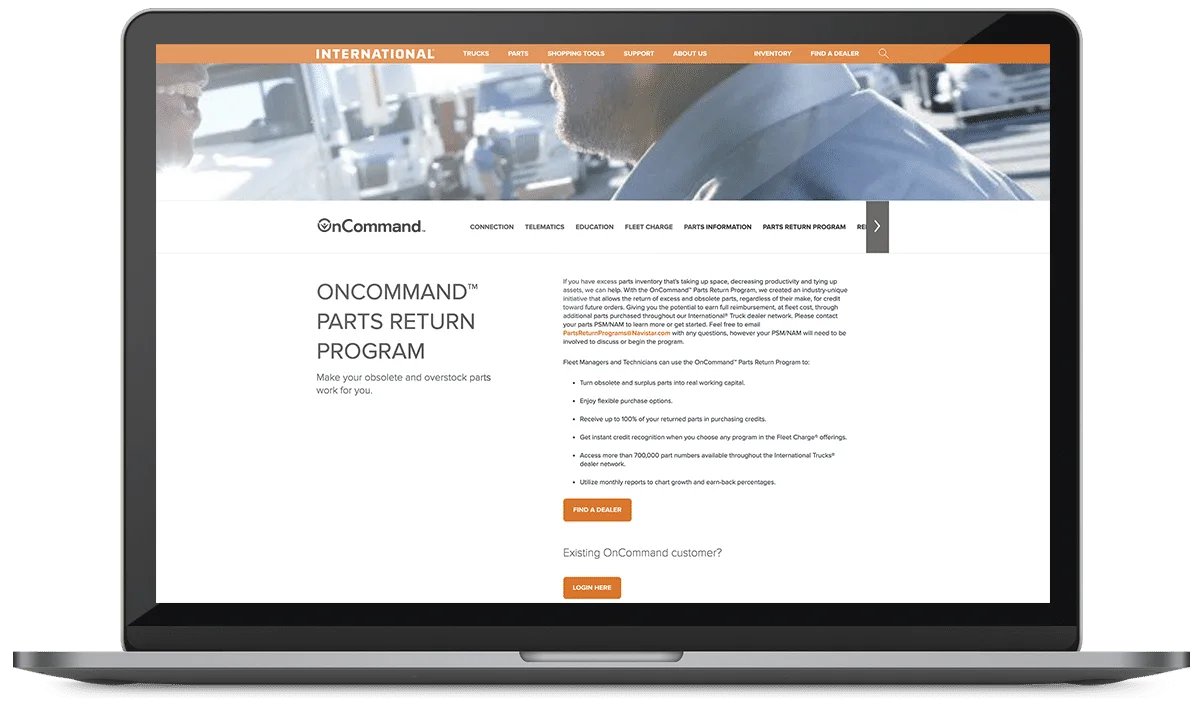 CASH FOR OBSOLETE PARTS
Turn old parts inventory into cash with OnCommand™ Parts Return Program, regardless of their make, for credit toward future orders.
TRUCK PARTS & SALES REVIEWS

Great Group of People
A cold beverage with my deliveries would be nice. No, to be honest, I can't think of anything. Duane, Owen, and the two young ladies that have delivered here have all been so helpful. As a new o/o, I appreciate the help they have given me with finding parts as my truck is older. Great group of people!! – Vandore Trucking, LLC, Logansport, IN

Good to Work With
Keep delivering parts in the parts delivery truck. Your parts department is so good to work with, it makes one want to own more International Trucks. Free Mudflaps! – Kmears Farm Trucking, Lafayette, IN

Top-Notch
There is nothing you can do to improve with me. All the people I deal with are top-notch. – Brett J., Lafayette, IN

Helpful, Understanding & Patient
Jeff and JD are helpful, understanding, and patient. Jeff has so much experience that is very helpful. Stock on our needs is better than in the past. Like doing business with them. – Mark S., Logansport, IN
FREQUENTLY ASKED QUESTIONS
Q:

What brands of truck parts do you carry?

A: We carry International parts and over 30 trusted brands including Bosch, Cummins, Hadley, and Monroe. View the full list here.
Q:

What is the warranty on truck parts?

A: International provides a one-year warranty on the part itself.  Installation labor is also covered for parts is installed at a Wiers International Trucks service department.
Q:

Can I order parts online and have them delivered?

A: Absolutely!  RepairLink is easy to access and allows customers to streamline their ordering process. Then Wiers' delivery will ensure you get your parts ASAP.
TALK TO A PARTS COUNTER ASSOCIATE TODAY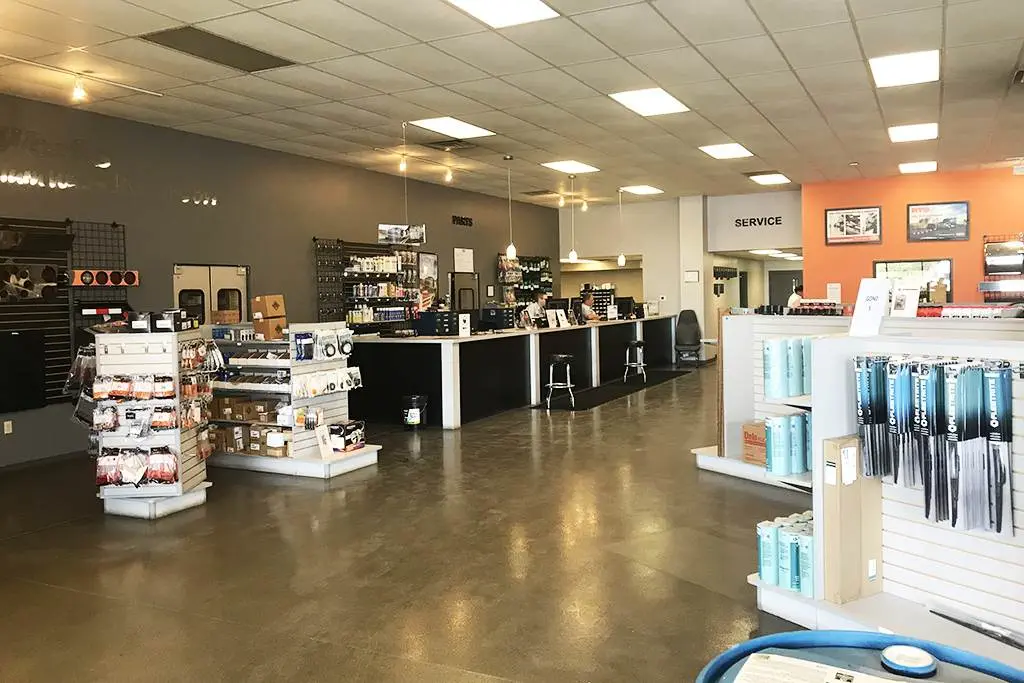 WIERS 24/7 TRUCK REPAIR & FLEET SERVICE LOCATIONS
Title

Address

Description

Wiers International Trucks - Plymouth, IN

2111 Jim Neu Dr, Plymouth, IN 46563, USA

2111 Jim Neu Drive Plymouth, IN 46563

Phone: (574) 936-4076
Fax: (574) 936-9301

Wiers International Trucks - Logansport, IN

1631 W Market St, Logansport, IN 46947, USA

1631 West Market Street Logansport, IN 46947

Phone: (574) 722-5656
Fax: (574) 722-9509

Wiers International Trucks – Lafayette, IN

430 Meijer Dr, Lafayette, IN 47905, USA

430 Meijer Drive Lafayette, IN 47905

Phone: (765) 448-9950
Fax: (765) 447-8824

Wiers Fleet Partners – Denver, CO

5300 Monroe St, Denver, CO 80216, USA

5300 Monroe St. Denver, CO 80216

Phone: (303) 294-0470

Wiers Fleet Partners – Indianapolis, IN

3748 W Morris St, Indianapolis, IN 46241, USA

3748 West Morris Street Indianapolis, IN 46241

Phone: (317) 429-0924
Fax: (317) 757-5734

Wiers Fleet Partners – LaPorte, IN

1933 W 450 N, La Porte, IN 46350, USA

1933 West 450 North LaPorte, IN 46350

Phone: (219) 379-5411
Fax: (219) 379-5496

Wiers Fleet Partners – Louisville, KY

4621 Allmond Ave, Louisville, KY 40209, USA

4621 Allmond Avenue Louisville, KY 40209

Phone: (502) 915-7424

Wiers Fleet Partners – Florence, KY

9000 Empire Connector Dr, Florence, KY 41042, USA

9000 Empire Connector Drive, Florence, KY

Phone: (859) 371-4711

Wiers Fleet Partners – Columbus, OH

1515 Frank Rd, Columbus, OH 43223, USA

1515 Frank Road, Columbus, OH 43223

Phone: (614) 276-6511

Wiers Fleet Partners – Corpus Christi, TX

1026 S Navigation Blvd, Corpus Christi, TX 78405, USA

1026 S Navigation Blvd, Corpus Christi, TX 78405
Phone: (361) 651-1480

Wiers Fleet Partners – Milwaukee, WI

6131 N 84th St, Milwaukee, WI 53225, USA

6131 North 84th, Milwaukee, WI 53225
Phone: 414-358-9980

Mobile Service Technician – Cincinnati, OH

Fairfield, OH, USA

Phone: (888) 889-4377
Mobile Service Technicians
24/7 Emergency Service

Mobile Service Technician – Cleveland, OH

Cleveland, OH, USA

Phone: (216) 317-2283
Mobile Service Technicians
24/7 Emergency Service

Mobile Service Technician – Lexington, KY

Lexington, KY, USA

Phone: (888) 889-4377
Mobile Service Technicians
24/7 Emergency Service

Mobile Service Technician – Dayton, OH

Dayton, OH, USA

Phone: (888) 889-4377
Mobile Service Technicians
24/7 Emergency Service
Title

Address

Description

Wiers International Trucks - Plymouth, IN

2111 Jim Neu Dr, Plymouth, IN 46563, USA

2111 Jim Neu Drive Plymouth, IN 46563

Phone: (574) 936-4076
Fax: (574) 936-9301

Wiers International Trucks - Logansport, IN

1631 W Market St, Logansport, IN 46947, USA

1631 West Market Street Logansport, IN 46947

Phone: (574) 722-5656
Fax: (574) 722-9509

Wiers International Trucks – Lafayette, IN

430 Meijer Dr, Lafayette, IN 47905, USA

430 Meijer Drive Lafayette, IN 47905

Phone: (765) 448-9950
Fax: (765) 447-8824

Wiers Fleet Partners – Denver, CO

5300 Monroe St, Denver, CO 80216, USA

5300 Monroe St. Denver, CO 80216

Phone: (303) 294-0470

Wiers Fleet Partners – Indianapolis, IN

3748 W Morris St, Indianapolis, IN 46241, USA

3748 West Morris Street Indianapolis, IN 46241

Phone: (317) 429-0924
Fax: (317) 757-5734

Wiers Fleet Partners – LaPorte, IN

1933 W 450 N, La Porte, IN 46350, USA

1933 West 450 North LaPorte, IN 46350

Phone: (219) 379-5411
Fax: (219) 379-5496

Wiers Fleet Partners – Louisville, KY

4621 Allmond Ave, Louisville, KY 40209, USA

4621 Allmond Avenue Louisville, KY 40209

Phone: (502) 915-7424

Wiers Fleet Partners – Florence, KY

9000 Empire Connector Dr, Florence, KY 41042, USA

9000 Empire Connector Drive, Florence, KY

Phone: (859) 371-4711

Wiers Fleet Partners – Columbus, OH

1515 Frank Rd, Columbus, OH 43223, USA

1515 Frank Road, Columbus, OH 43223

Phone: (614) 276-6511

Wiers Fleet Partners – Corpus Christi, TX

1026 S Navigation Blvd, Corpus Christi, TX 78405, USA

1026 S Navigation Blvd, Corpus Christi, TX 78405
Phone: (361) 651-1480

Wiers Fleet Partners – Milwaukee, WI

6131 N 84th St, Milwaukee, WI 53225, USA

6131 North 84th, Milwaukee, WI 53225
Phone: 414-358-9980

Mobile Service Technician – Cincinnati, OH

Fairfield, OH, USA

Phone: (888) 889-4377
Mobile Service Technicians
24/7 Emergency Service

Mobile Service Technician – Cleveland, OH

Cleveland, OH, USA

Phone: (216) 317-2283
Mobile Service Technicians
24/7 Emergency Service

Mobile Service Technician – Lexington, KY

Lexington, KY, USA

Phone: (888) 889-4377
Mobile Service Technicians
24/7 Emergency Service

Mobile Service Technician – Dayton, OH

Dayton, OH, USA

Phone: (888) 889-4377
Mobile Service Technicians
24/7 Emergency Service