Our technicians participate annually in head-to-head state and national competitions.
Hard work gets recognized.
Wiers has been hiring and developing factory trained technicians for 55 years.
Wiers Technicians average more than 40 hours of annual training. Knowledge and experience means you get faster and more accurate repairs saving you downtime and unnecessary parts charges.
Our proven track record includes:
1

st 

Place in the Indiana Motor Truck competition two years in a row
Technology and Maintenance Council award winners since 2011
When your fleet needs service, don't settle.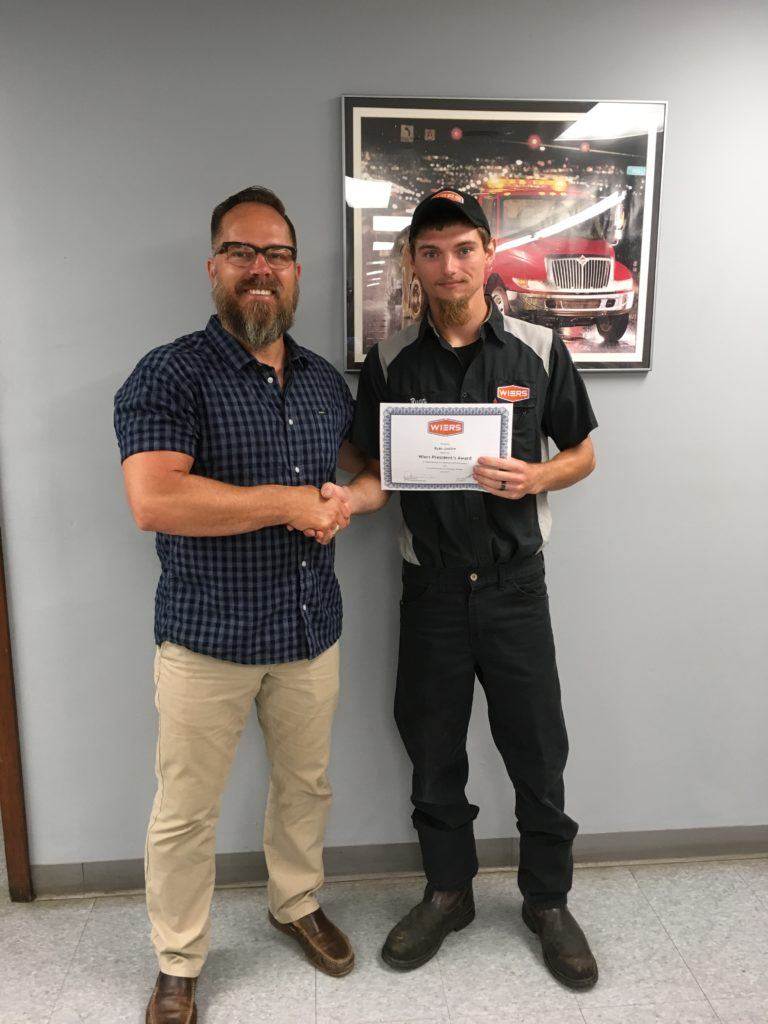 IMTA Technician Championship 2018
1st Place – Service Information 2nd Place – OHM/Volt Meter 2nd Place – Brakes 2nd Place – Engine 3rd Place – Written Exam 3rd Place – Fasteners
2017 IMTA Technician Championships
1st Place – Overall 1st Place – Engines 2nd Place – Fasteners 2nd Place – Service Information 3rd Place – Volt Meter 3rd Place – Written Test 3rd Place – Engines
IMTA Technician Championship 2016
1st Place – Overall 2nd Place – Written Test 1st Place – Engines 2nd Place – Engines 1st Place – Tires and Wheels 1st Place – Service Information 2nd Place – Service Information
2015 IMTA Technician Championships
2nd Place Overall Champion 1st Place HVAC 1st Place Fasteners 1st Place Service Information 2nd Place Service Information 3rd Place Service Information 2nd Place Engines 2nd Place Tire & Wheels
ATA TMC SuperTech 2014
2 Technician Skills Competition Finalists
IMTA Technician Championship 2014
1st Place Brakes, 2nd Place Engines 2nd Place Service Information 2nd Place Tires & Wheels
IMTA Technician of the Quarter
1st Quarter 2014
ATA TMC SuperTech 2013
2 Technician Skills Competition Finalists
IMTA Technician Championship 2013
Service Information Champion
Navistar Service-Technician Rodeo 2013
3rd Place
ATA TMC SuperTech 2012
Technician Skills Competition Finalist
IMTA Technician Championship 2012
PMI Station Champion
Navistar Service-Technician Rodeo 2012
3rd Place
ATA TMC SuperTech 2011
Technician Skills Competition Top 25
IMTA Technician Championship 2011
Engine Station Winner
Wiers Fleet Partners – Columbus
Wiers Fleet Partners – Indianapolis
Wiers International Trucks – Lafayette
Wiers International Trucks – Logansport
Wiers Fleet Partners – La Porte County
Wiers International Trucks – Plymouth
Wiers Fleet Partners – Louisville